Let's talk about
your chain link fence project
It's simple:

get a beautiful and sturdy chain link fence
installed within 3 weeks

It's faster and easier to let Ergeon take care of your chain link fence installation
01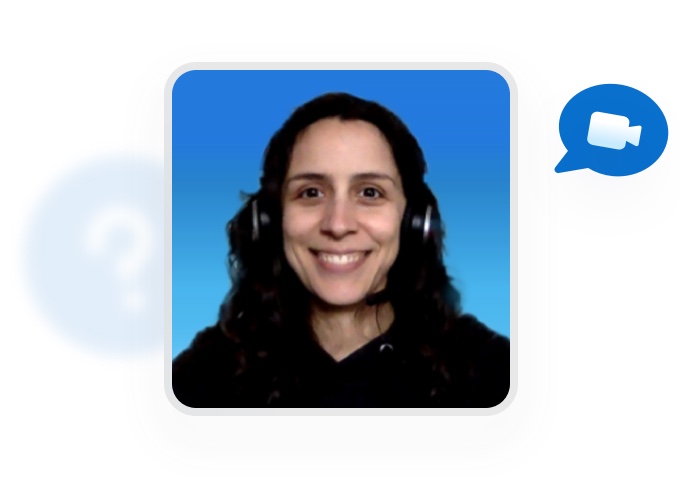 Get in touch with our chain link fence experts
Give us a call or submit a request online and we'll contact you asap!
02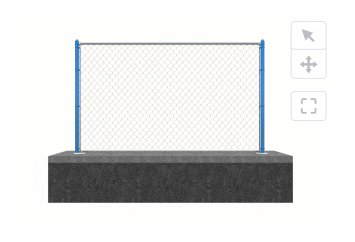 Choose one of our chain link fence packages and customize the design
Choose from a wide selection of fence packages and customize the design to match your needs.
03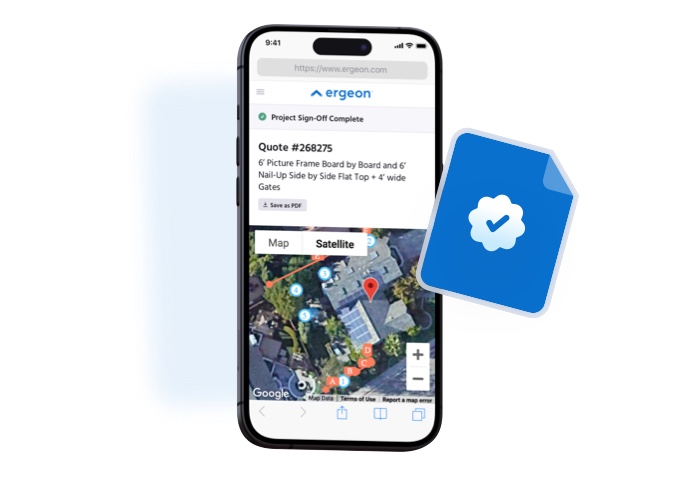 Get an accurate and fair quote for your chain link fence project
Your quote is clearly itemized aided by 3D visualizations. There are no hidden fees.
04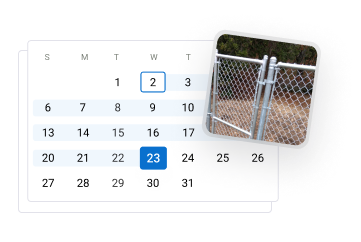 Choose your installation date, sit-back and relax
Book your installation appointment and have your project installed within 3 weeks
Our chain link fence team is here to make your
fence project happen with zero hassle
Satisfaction
Guaranteed
Quality workmanship
backed by leading warranty
Licensed
and Insured
We are licensed chain link fence contractors
Experts You Can
Actually Rely On
Responsive and
knowledgeable team
We completed over 11,700+
fence projects
The fence looked top notch!
Rivercrest Dr, Lake Forest
Came home to an amazing fence!
Clearwater Dr, Lake Forest
Popular chain link fence types, designs and use-cases
Chain link fences can be built to suit a variety of uses.
Chain link fence characteristics
Chain fences are a popular budget friendly choice that provides security for your property
What is a chain link fence?
Chain link fence is a type made of galvanized or steel wire woven in a zig-zag pattern stretched between metal posts and metal rail. Each fence component is available in a variety of metal weights, thicknesses and coatings. It is a popular choice for both residential and commercial properties.
Benefits of a chain link fence
A chain link fence can offer many benefits to a homeowner. It is affordable, durable, and low maintenance. It can also provide safety for children and pets, and it can keep out unwanted critters. A chain link fence is a great option for anyone looking for an effective and affordable fencing solution.
Chain link fence costs
The national average for chain link fencing will vary depending on the material, style and design. A rough estimate for a 6' height chain link fence in 2023 cost between $10-$35 per linear foot.
Chain Link Fence Parts
A chain link fence is made up of several components, and it is important to know what they are. The main pieces include vertical poles anchored in the ground with concrete, a railing, and steel fabric. Each component is important for providing the fence with stability and strength.
Contact our chain link fence installation
team and get your project started
Chain link fence installation locations
Ergeon provides chain link fence installation services for residential and commercial properties